COMBAT BOOTS WOMAN IN BACK LEATHER
Veuillez sélectionner une taille
Description

. Rising cut and laced closure
. 100% comfortable leather lining
. Heel: 3cm, notched sole
. Sewn Blake integral solid solid
. Handmade with passion in Portugal

Delivery & Return

All orders placed before 1pm (Monday to Friday) are dispatched the same day.

Standard Colissimo = free Delivery within 2 days
Relais = free  Delivery within 3/4 days
Chronopost Express = 9€ Delivery within 24 hours (If the order is placed before 13H on weekdays)


The return is simple and free for France , Spain , Belgium, Italy , Holland, Germany, Luxembourg Portugal.. Simply log in to your account and download your print-out. You have 30 days of your date to request an exchange or refund. For more information, see our Terms and Conditions here.

Maintenance & Composition

In order to preserve your pair over time, we recommend that you alternate the ports and put it under shoetrees. For leather, we recommend that you wax your pair with one of our luxury waxes as soon as the need arises. For more information, please visit our guide section
Lined with a thick layer of leather very pleasant to the foot,
it does not lack arguments to satisfy the woman who appreciates a well studied style.
Good pair for the city as well as escapades, our combat boots take is made with cognac leather th... at allows him to adapt to all wardrobes by relying on the great comfort of his shoe. Its narrow cut has a double practical opening system: a simple lacing that goes up to the collar, accompanied by a very discreet side zipper but which facilitates its fitting.see more
Paire et fils: Stylish women's combat boots for winter
The brand Paire et Fils offers every season luxury shoes for women, including a beautiful collection of combat boots in leather and suede available in different colours and styles. In love with the beautiful boots, they are made with beautiful materials and according to classic and chic forms for timeless and intergenerational cuts. Our combat boots for women are adapted to all clothing styles without fear of a faux pas thanks to their sober and classic look that can be easily invested according to the wardrobe. Our combat boots for women is a very trendy boot this season adulated by all fashionistas as the great classic shoe makers. This combat boots luxury is the ally of a city break but also the rock touch of a well studied style. Easy to slip on, our women's zip boot is ready to use thanks to its bi-material sole in leather and rubber and its notched sole in solid and comfortable rubber which gives it a trendy and sporty look, all you have to do is slip it on to appreciate its great comfort and its straightforward and particularly elegant line. As with all our women's shoes, it is important to alternate between wearing them and to treat your combat boots with the appropriate care. Discover without further delay our care products for boots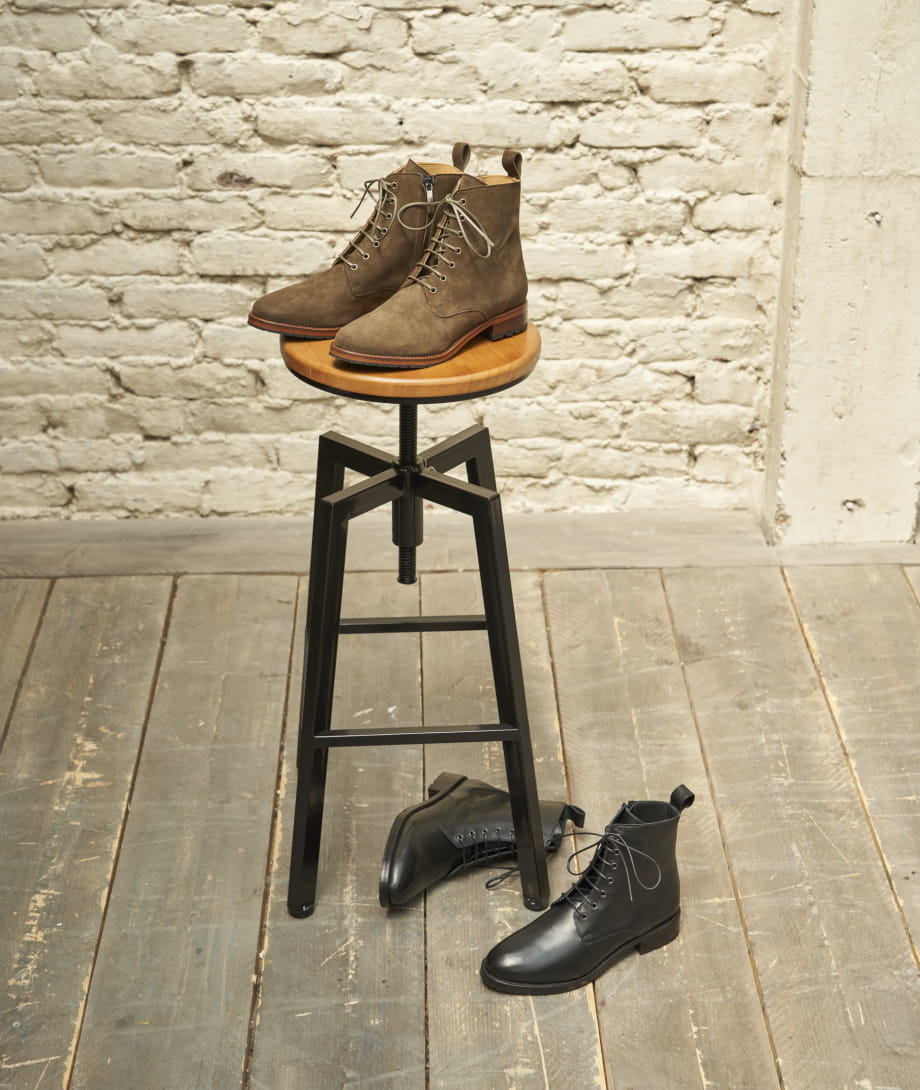 High quality women's combat boots handcrafted in Portugal
Our entire collection of women's combat boots is handcrafted in our family-run workshop in Portugal. With a focus on quality and comfort, each pair of women's premium combat boots is made with full Blake stitching, a classic technique that allows our luxury combat boots to enjoy great flexibility and comfort while having a sleek design and elegant lines. Our entire collection of leather combat boots is made from carefully selected premium leather, velour and nubuck to suit all styles of clothing. Available in different colours, from silky suede to smooth black or brown leather, our beautiful women's leather rangers are available in small and large sizes. The women's platform boots have a very comfortable 100% leather lining to keep your feet warm and a soft leather outsole enhanced in its winter version by a notched rubber sole. Easy to slip on, our lace-up ankle boots are made of quality leather. If you would like to discover the advantages of Blake stitching, please visit the Savoir-Faire page.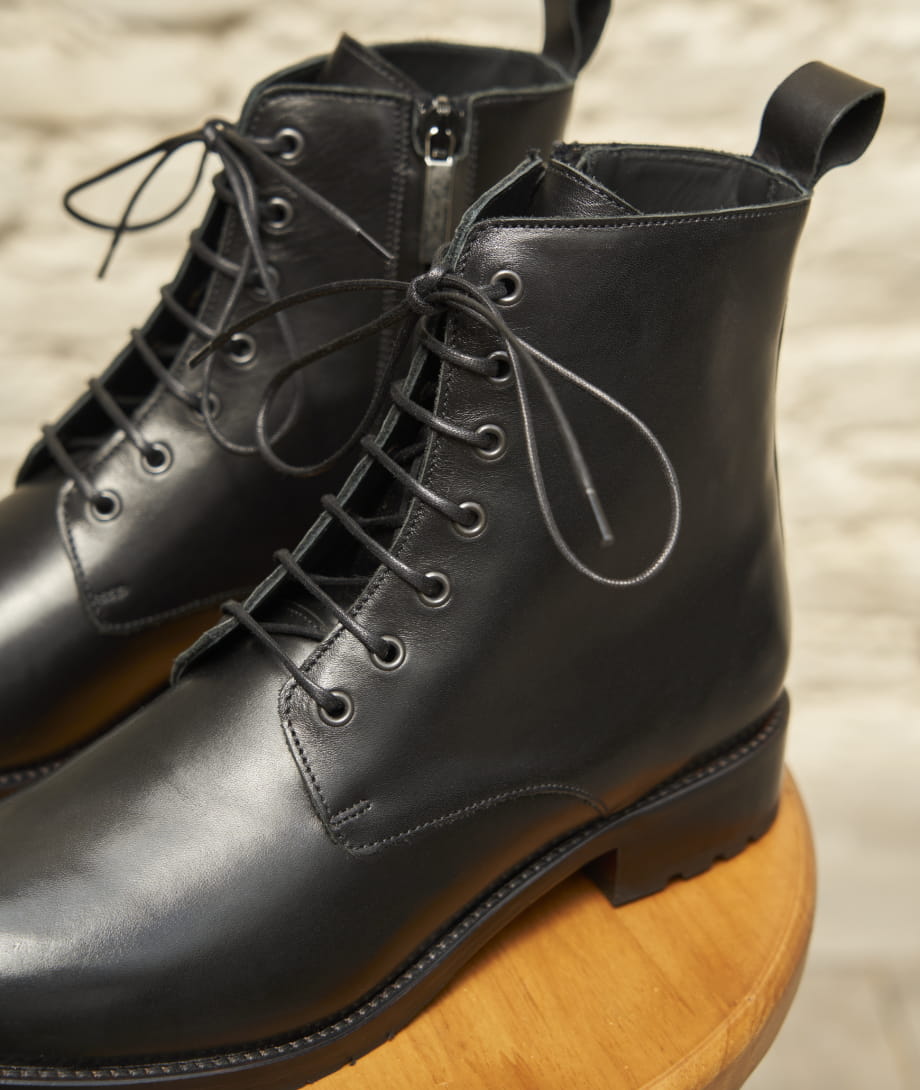 The leather rangers for women: a seasonal must-have
Our women army boots have been a must-have for the past few years. Our combat boots for women are adapted to all clothing styles without fear of a faux pas thanks to their sober and classic look that can be easily integrated into any wardrobe. Our combat boots for women are a very trendy boot this season adulated by all fashionistas as well as the great classic shoe makers. This luxury combat boot is the ally of a city break but also the rock touch of a well studied style. The wedge and studded boots brighten up casual outfits as well as feminine outfits to which they add a certain cachet. Discover our collection of women's combat boots