CHAMPAGNE SUEDE MOCCASIN
Veuillez sélectionner une taille
Description

- Champagne beige suede loafer for women
- Single tongue opening
- Soft cowhide lining
- Medium heel: 2.5cm & leather sole
- Blake assembly
- Handmade in Portugal

Delivery & Return

All orders placed before 1pm (Monday to Friday) are dispatched the same day.

Standard Colissimo = free Delivery within 2 days
Relais = free  Delivery within 3/4 days
Chronopost Express = 9€ Delivery within 24 hours (If the order is placed before 13H on weekdays)


The return is simple and free for France , Spain , Belgium, Italy , Holland, Germany, Luxembourg Portugal.. Simply log in to your account and download your print-out. You have 30 days of your date to request an exchange or refund. For more information, see our Terms and Conditions here.

Maintenance & Composition

In order to preserve your pair over time, we recommend that you alternate wearing them and put them on shoe trees. For nubuck as well as suede, we advise you to clean your pair with a crepe brush and a cleaning foam. For more information go to our guide.
Available in different colours, this pair is the elegant argument of the season.
thanks to its timeless cut and high-quality materials. Each skin is chosen with the utmost care according to its quality,
the beautiful reflections of its colour and the trend of the season.Very thin and slightly rounde... d at the toe, this moccasin benefits from a slightly rounded toe and a comfortable fit. Find all our care advice in our Guide section.see more
Paire et fils: the comfortable and trendy suede loafer for women
For spring and summer we recommend our low top shoe, the suede women's loafer, ideal for long summer walks and suitable for any wardrobe. Perfect for the season, our loafers with flat sole and tonal tongue will easily integrate with casual or dressy outfits depending on your style. Ultra comfortable thanks to its cowhide leather lining that lets your feet breathe, you can wear it with or without socks, with jeans as well as a nice dress or classic skirt. Often considered as too preppy, the suede moccasin is now a small pair of city shoes that does not lack character but is positioned at the top of the catwalk thanks to its penny loafer and preppy style that suits the city woman who likes to mix elegance and comfort. Discover also our model of women's moccasin with wedge sole the impatient woman.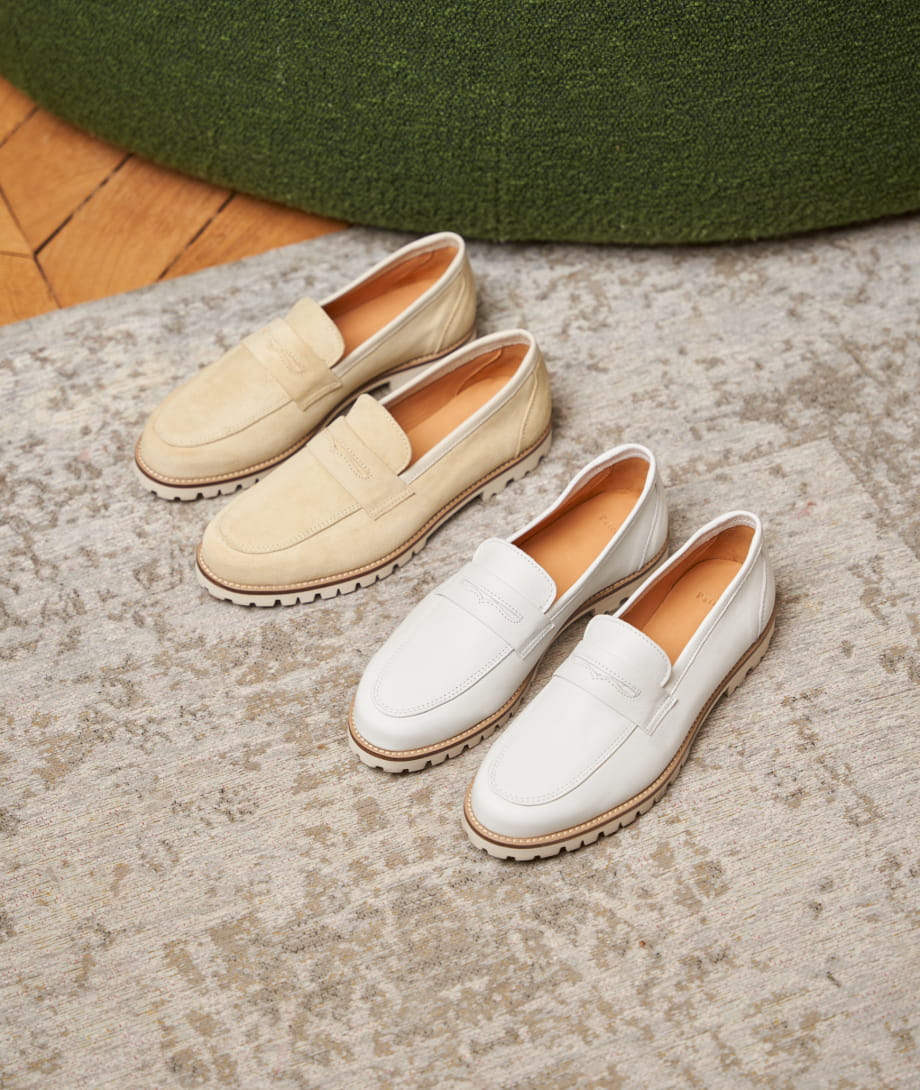 Our handmade women's loafers
Our collection of urban loafers for women in leather or suede is entirely made in Portugal, partly hand-sewn in our family workshop according to a traditional know-how of quality recognized in the region. Discover a maximum of comfort in the suede moccasin for women thanks to its cowhide leather lining and its 100% leather sole with a 1.5 cm comfort heel that allows a comfortable walk. Our flat soles have gum pads that make them small, ready-to-use shoes, although we recommend that you have pads put on your pair of women's loafers to protect the Blake seam. Want to know how to take care of your pair of suede loafers? Discover our brand and our tips for city shoes.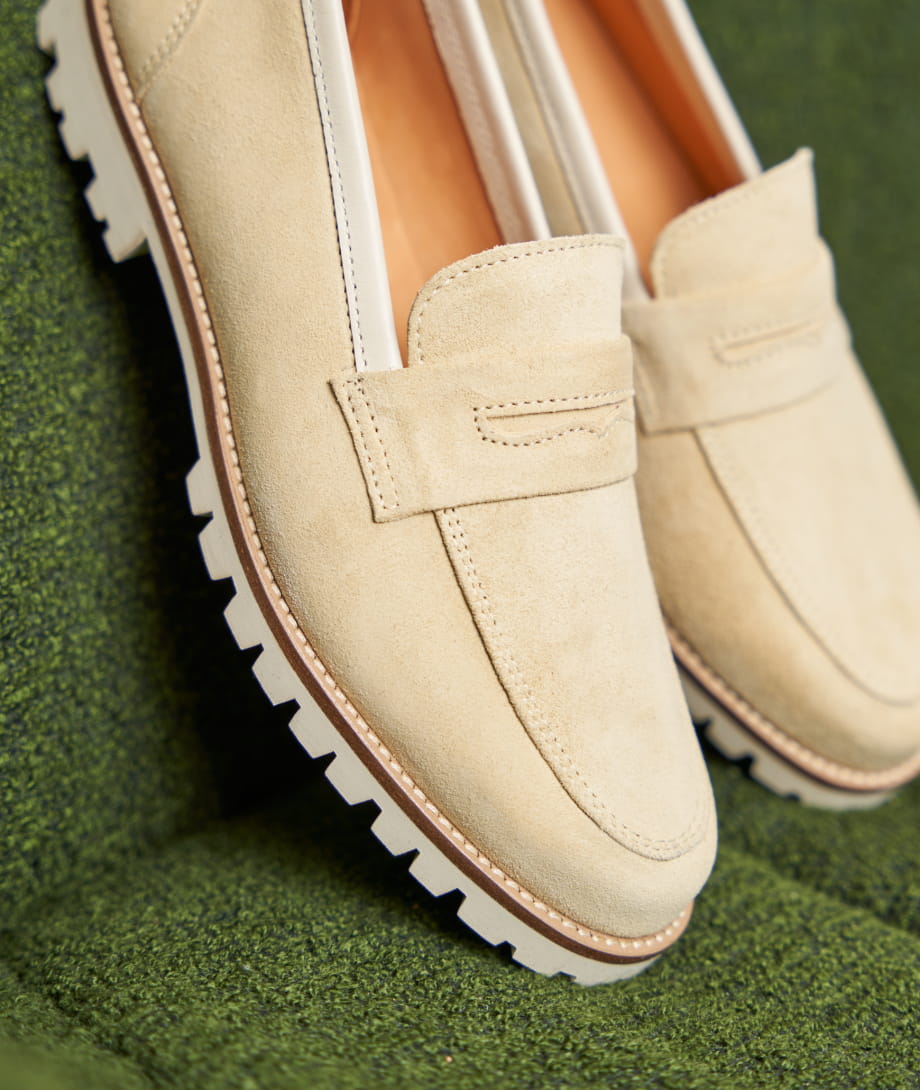 how to wear women's loafers?
Our beige suede loafer for women is a particularly trendy and elegant colour for spring summer. Refined and chic, this high end loafer for women can be mixed with jeans or a pretty dress, replacing a pair of sandals for the summer. Suitable for the city as well as for summer outings, these luxury women's nude suede loafers will bring a casual chic touch to your wardrobe. Glamorous and trendy, our collection of leather or suede loafers for women will seduce you, go ahead and discover our collection.